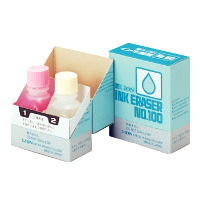 100
For removing fountain pen Blue-Black or Red ink and non-permanent felt tip marker ink. 10 boxes/inner box, 120 boxes/carton.

Liquid 1: Hydrochloric acid (18ml/plastic bottle).
Liquid 2: Hhypochlorous acid (18ml/plastic bottle).

How to use:
To erase blue, blue-black or black ink, apply Liquid 1 in the pink bottle first, then Liquid 2 in the transparent bottle. When erasing black ink, it may cause a slight light yellow discoloration.
To erase red ink, apply Liquid 2 first, then Liquid 1.

Cap firmly when not in use.
Don't mix both liquids.
Don't expose the bottles in a sunny place.
Keep away from Children.